Skip to Main Content
It looks like you're using Internet Explorer 11 or older. This website works best with modern browsers such as the latest versions of Chrome, Firefox, Safari, and Edge. If you continue with this browser, you may see unexpected results.
Book trailers
WHAT IS A BOOK TRAILER?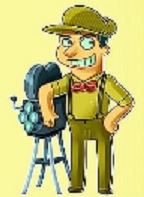 A book trailer is a helpful marketing tool used to promote a book.
A book trailer is a short promotional video to help increase a book's online presence
and reach a wider audience. Watch a Book Trailer to get an overview of a book
and then pop in to the Library to borrow the book and read it yourself!
Book summaries
The Tell

by

Call Number: F CHA

ISBN: 9781760895945

Publication Date: 2020

Rey Tanic is not like other fourteen-year-olds. His dad is a mafia boss. His dad is also in jail. But when Rey's life explodes, every decision he makes will now shape the rest of his life and have him asking, how far does the apple really fall from the tree? Tell A sign. A behavioural clue that reveals something one tries to hide.

See you in the Cosmos

by

Call Number: F CHE

ISBN: 9780141365602

Publication Date: 2017

All eleven-year old Alex wants is to launch his iPod into space. With a series of audio recordings, he will show other lifeforms out in the cosmos what life on Earth, his Earth, is really like. But for a boy with a long-dead dad, a troubled mum, and a mostly-not-around brother, Alex struggles with the big questions: Where do I come from? Who's out there? And, above all, How can I be brave? Determined to find answers, Alex sets out on a remarkable road trip that will turn his whole world upside down.
Book summaries
Skulduggery Pleasant

by

Call Number: F LAN

ISBN: 9780007241620

Publication Date: 2007

When twelve-year-old Stephanie inherits her weird uncle's estate, she must join forces with Skulduggery Pleasant, a skeleton mage, to save the world from the Faceless Ones.

Fall of five

by

Call Number: F LOR

ISBN: 9780718178215

Publication Date: 2013

After facing off with the Mogadorian ruler and almost being
annihilated, the Garde go into hiding They must learn to master their
Legacies and learn to work together as a team When they receive a sign from
Number Five -- a crop circle in the shape of a Loric symbol -- they know
they are close to being reunited But could it be a trap? Time is running
out, and the only thing they know for certain is that they have to get to
Five before it's too late.