Skip to Main Content
It looks like you're using Internet Explorer 11 or older. This website works best with modern browsers such as the latest versions of Chrome, Firefox, Safari, and Edge. If you continue with this browser, you may see unexpected results.
Book trailers
WHAT IS A BOOK TRAILER?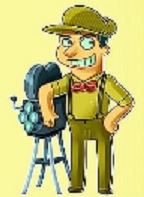 A book trailer is a helpful marketing tool used to promote a book.
A book trailer is a short promotional video to help increase a book's online presence
and reach a wider audience. Watch a Book Trailer to get an overview of a book
and then pop in to the Library to borrow the book and read it yourself!
Book summaries
Gone

by

Call Number: F GRA

ISBN: 9781405292320

Publication Date: 2018

In a small town on the coast of California, everyone over the age of fourteen suddenly disappears, setting up a battle between the remaining town residents and the students from a local private school, as well as those who have "The Power" and are able to perform supernatural feats and those who do not. Check our catalogue for other books by Michael Grant.

Beverly, right here

by

Call Number: F DIC

ISBN: 9781406391237

Publication Date: 2020

Beverly Tapinski has run away from home plenty of times, but that was when she was just a kid. By now, she figures, it's not running away. It's leaving. Determined to make it on her own, Beverly finds a job and a place to live and tries to forget about her dog, Buddy, now buried underneath the orange trees back home; her friend Raymie, whom she left without a word; and her mum, Rhonda, who has never cared about anyone but herself. Beverly doesn't want to depend on anyone, and she definitely doesn't want anyone to depend on her. But despite her best efforts, she can't help forming connections with the people around her - and gradually, she learns to see herself through their eyes.
Book summaries
Scythe

by

Call Number: F SHU

ISBN: 9781406379242

Publication Date: 2018

A world with no hunger, no disease, no war, no misery: humanity has conquered all those things, and has even conquered death. Now Scythes are the only ones who can end life and they are commanded to do so, in order to keep the size of the population under control. Citra and Rowan are chosen to apprentice to a scythe -- a role that neither wants. These teens must master the art of taking life, knowing that the consequence of failure could mean losing their own.

Dorothy must die

by

Call Number: F PAI

ISBN: 9780062347046

Publication Date: 2014

I didn't ask for any of this. I didn't ask to be some kind of hero. But when your whole life gets swept up by a tornado taking you with it you have no choice but to go along, you know? Sure, I've read the books. I've seen the movies. I know the song about the rainbow and the happy little bluebirds. But I never expected Oz to look like this. To be a place where Good Witches can't be trusted, Wicked Witches may just be the good guys, and winged monkeys can be executed for acts of rebellion. There's still a yellow brick road but even that's crumbling. What happened? Dorothy. They say she found a way to come back to Oz. They say she seized power and the power went to her head. And now no one is safe. My name is Amy Gummand I'm the other girl from Kansas. I've been recruited by the Revolutionary Order of the Wicked. I've been trained to fight. And I have a mission. Book 1 in the series.